All tours start from Wadi Rum Resthouse situated 7km straight after Visitor Center from where you have to buy your entrance tickets (free with Jordan Pass).
If you are driving your own car, you can easily park it at Wadi Rum Resthouse.
Full Day Jeep Tour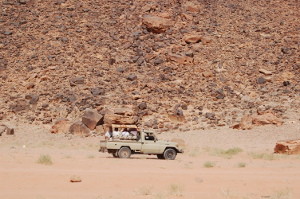 Duration:
From 10am to 6pm (summer time)
From 9.30am to 5pm (winter time)
Sites visited:
Lawrence's Spring
Khasali canyon
Um Fruth Arch
Red Sand Dune
Infashieh Inscriptions
Lawrence's House
Burdah Arch
During this tour, you will have the opportunity to walk along nice canyons (easy level) such as Abu Rachaba or Al Barrah.
Price per person (including lunch-box):
1 person: 90JD
2 persons: 45JD
3 persons: 35JD
4 persons: 25JD
5 – 6 persons: 20JD
If visitors arrive at the same time, tour will be shared in order to reduce costs.
Private tours upon request.
---
Optional:
Overnight stay at Wadi Rum Camp
Prices per person (including transfers, dinner and breakfast)
- Adults: 50JD (Single tent: 75JD)
- Children (under 12): 25JD
- Children (under 3): Free of charge